Morgan Evans plays the Maton CS Classic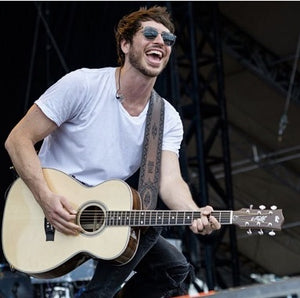 From the Maton AU website:
   "Born in Newcastle, New South Wales, Australia on April 24, 1985, Evans started playing music early on, inspired by fellow Australian country star Keith Urban. He formed his first band when he was 13 years old, and rose to prominence when he won the 2007 edition of the competition Telstra Road to Tamworth.
   Following his victory, he released his first single, "Big Skies," in September 2007. By 2012, he'd signed with the Australasia branch of Warner Music, releasing the EP Live Each Day in January of that year, quickly followed by While We're Young that August. Evans' profile continued to rise as he took supporting roles on notable tours, including Alan Jackson, and Taylor Swift's Australian tour supporting her album Red.
   Evans recorded his eponymous debut with producer Jedd Hughes in Nashville, Tennessee. Arriving in March 2014, Morgan Evans would top the Australian country charts and reach 20 on its pop albums chart, thanks to the singles "One Eye for an Eye" and "Like a Tornado."
   Evans' next move was the international market. The album also helped him garner a number of Country Music Channel Awards in 2014, including Oz Artist of the Year, and his burgeoning fame led to several television appearances, including host the 2016 CMC Music Awards with American country star Kelsea Ballerini; the pair subsequently became romantically involved.
   In 2015, he moved to Nashville and began working with producer Chris DeStefano on his first album designed for an international market. In July 2017, he released "Kiss Somebody," which was the first single from his first album released in either America or England. 2018 saw the release of the singles "Day Drunk" and "American," which were pulled from Things That We Drink To, Evans' debut album for Warner Nashville."