Ellie's Roasted Red Pepper Cheese Spread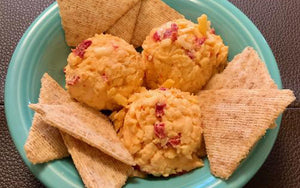 Bill loves Pimento Cheese but for years I never wanted to taste it.  Then I made my own.  The first step was learning to make Home-made Mayo.  This is nothing new really – most restaurants just call that aioli, but making your own will cause whatever you use it in to be one step above the rest.  This recipe is fine with really good store-bought mayo – just don't use low fat or such as it will not be right.
You notice this isn't Ellie's Pimento Cheese Spread and that is because I rarely have pimentos but I always have a jar of roasted red peppers in my fridge.  I am never without and use them in lots of things from pizza to pasta sauce.  So, I just finely chop 1 peppers worth of the roasted red peppers.  It works and we both like it better!! 
Ingredients:
8 oz. block of extra sharp cheddar
8 oz. block of mild or sharp cheddar
¼ cup fresh grated Parmesan Cheese
½ cup to 1 cup of quality Mayonnaise
1 tsp. Tabasco
1 tsp. Worcestershire Sauce
Grated Onion to taste (about 1 tsp.)
1 Whole Roasted Pepper from Jar – finally chopped
Directions:
Using a large hole grater grate your cheese.  Using a zester - grate your Parmesan.  Never use pre-grated Parmesan as it is dried out and has lost its oils and flavor. 
Put ½ Cup Mayo in a large mixing bowl and add the Tabasco, the Worcestershire and Onion.  Whisk together.  Mix in the finely chopped peppers.  Then wash your hands and start mixing the grated cheese into the mayo and pepper mixture.  Mix until you feel it is mixed well.  Add more Mayo if you want it a bit creamier. 
Store in covered container in fridge.  Gets better as it sits.  Make a sandwich out of it, or put it on a burger, or just on a cracker like we do.  Write me and tell me how you like it.