Ellie's Chicken Piccata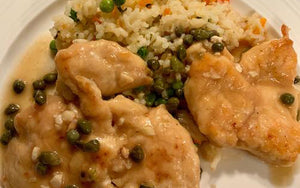 This is one of our favorite meals. Makes us feel like a restaurant meal! The capers really accentuate the lemon and chicken is a perfect backdrop for these delightful fruits.  I like to pound my chicken as thin as I can get it without it falling apart.  We love it served with a rice pilaf and steamed broccoli.
Ingredients:
2 Chicken Breasts - Boneless & Skinless,
1 Cup Flour
1 Tsp. Morton Nature's Seasons Seasoning Blend**
4 Tablespoons Butter
4 Tablespoons Olive Oil,
1 Lemon squeezed for juice
2 Lemons Cut into Wedges
2 Cloves Garlic finely minced
1 Cup Chicken Broth
2 Tablespoons Capers (be sure to use ones in brine and not salt)
Preparation:
Cut thick part of chicken breasts in half lengthwise so that the breast is about the same thickness overall.  Put the chicken pieces into a large plastic bag and pound from the middle out on each one to 1/4 inch thickness or a bit thinner. You can use a rolling pin for this or an empty wine bottle.  Each breast should make 1 large piece that you can cut in half giving you 4 servings. 
Add the Flour and Natures Seasoning Blend to plastic bag with the chicken.  Shake to evenly coat each piece. 
Heat skillet over medium heat.  Add 2 Tablespoon Butter and 2 Tablespoon Olive oil to pan.
Shake off excess flour on each piece of chicken.  When butter and oil are sizzling in the pan add the dusted off chicken pieces.  They will cook rather quickly, about 1 minute to 2 minutes per side.  When the pieces are browned a bit, turn over and brown the other side.  Put cooked pieces on plate and cover.  Add 2 Tablespoons Butter and 2 Tablespoons Olive oil to pan and when hot add last 2 pieces of chicken.  When browned add to plate and cover.
Add the minced garlic to the pan and cook for 30 seconds, adding a smidge more oil if needed. Add lemon juice, chicken broth and capers. Stir and scrape up browned bits from pan. As this starts to bubble up add chicken pieces back to pan and turn in the sauce. The flour on the chicken will thicken up the sauce.
Serve with lemon wedges.
** You will note I use the Morton's Seasoning Blend again and I want you to know it is my short cut to lots of things.  I buy friends a bottle and they find they can't live without it either!!.  It is is a mix of onion, garlic, salt, pepper and other natural spices that bring out the flavor of foods without overpowering them. And it is MSG-free.  Most other season salts are too salty or too much garlic.  This is very balanced.  If you don't have it you can blend your own with garlic powder and onion powder and celery salt and pepper.