Ellie's Southern Sausage Gravy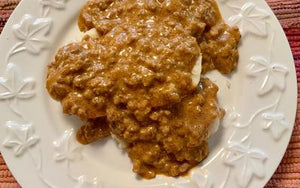 Ellie's Southern Sausage Gravy
When I married Bill I knew I needed to learn how to make gravy.  Not just any gravy.  My mother taught me lots of gravies, one made with bacon grease and milk, one made with pan drippings for either Turkey or a Roast.  The one that I needed to learn was Sausage Gravy.  He judged all such things by his southern grandmother, and it took me some time to make a gravy he could brag about. Now our son wants it every time he comes home. 
INGREDIENTS:
1 package Jimmy Dean sausage
1/4 Cup all-purpose Flour
3 Cups Whole Milk
2 Teaspoons Chili Powder (or more if you like it spicy)
1/2 Teaspoon Morton's Natures Seasons Seasoned Salt
Pepper to Taste
PREPARATION:
Break the sausage into small pieces and in a large skillet. Add 1 cup water and bring to boil over medium heat.  Continue to break up the pieces as it cooks (I use a potato masher).  The water helps to cook the sausage evenly and quickly.  It also allows you to break it into small pieces more easily.  When the water evaporates, continue cooking the sausage in its fat until the sausage browns. Pull off heat and move sausage to one side and tip pan to get grease to come to one side.  (I set it on a wooden spoon and walk away a couple of minutes.  You need ¼ cup grease.  If not enough out of the sausage, then add some bacon fat or butter.
While waiting for the fat to move to one side of pan heat milk in microwave getting it really hot (not boiling).  This will make the gravy go together much faster.
Reduce the heat to medium-low and mix the flour with the fat stirring constantly.  Allow the flour to cook for about 1 minute.  Sprinkle the Chili Powder and Natures Seasons Salt over the sausage – stirring to blend well.  Add the hot milk and stir constantly.  Cook over the medium low heat for about 10 to 15 minutes until the gravy thickens.  Before serving, taste and add more Salt if needed.  Add Pepper to your taste.  Serve over split buttermilk biscuits.