Fabulous Blue Cheese Dressing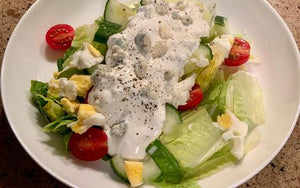 I've had a lot of Blue Cheese salad dressings but none compare to home made.  It is a splurge of calories on a salad – but it is my favorite way to dress up head lettuce.  Top with chopped egg and chopped bacon. YUM. You can personalize your own salad by adding cucumbers, tomatoes, red onion, or whatever you think sounds good!
For a quick dinner I like this over a baked potato.  And it is a really good chip dip!
INGREDIENTS:
 2 cups sour cream (not the light kind - Daisy is recommended)
1/2 cup Hellman's Canola mayonnaise**
1/4 cup of half and half (can substitute cream)
1 garlic clove crushed to paste OR grated on zester
Dash of Tabasco
Dash of Worcestershire Sauce
1/2 teaspoon of Natures Seasons seasoning salt (has no MSG and is the "secret ingredient")
1/2 teaspoon freshly ground pepper
1 teaspoon finely chopped fresh parsley or 1/2 teaspoon dried (if you use fresh parsley - it is very strong!)
1/3 cup crumbled blue cheese (have extra to garnish salad or dressing in bowl)
PREPARATION:
Mix all ingredients except the blue cheese in a bowl with a whisk to blend. Add Blue Cheese and refrigerate over night. Check consistency before use - it tends to thicken up and more Half & Half is needed. 
**Hellman's is name on East Coast – name on West coast is Best Foods - same great stuff.