Oven Roasted Tuscan Tomatoes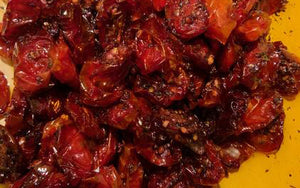 These tomatoes are a favorite at all our parties. I sincerely can not make enough of them. I warn you – they are addictive! They are absolutely the best when tomatoes are in season and super ripe. However, even under ripe tomatoes can be spectacular done this way. Note: that if the tomatoes are store bought, and not as ripe, they will take longer to cook.  Your quickest way to make is use grape tomatoes - they just need to be cut in 1/2.
These take 10 to 12 hours and maybe more.  So I suggest you put these in before you go to bed and check as soon as you wake.  The house will smell like Italy when you wake up. 
This is a method you will want to experiment with to get tomatoes the way you like them. A little less time and they will be chewier because they are more moist. A little more time and the flavor will be more concentrated. As this is a slow cook method you don't need to use fresh herbs (they are going to dry out anyway!).
Here are 2 ways we have served these; On sliced French bread with grilled round of Brie , or poured over a round of goat cheese served with crackers.
INGREDIENTS:
2 Pounds Ripe Tomatoes
5 Cloves Garlic Chopped Finely
1 Teaspoon Dried Basil
½ Teaspoon Dried Parsley
1/3 Cup Olive Oil
¼  Teaspoon Sea Salt
1/8 Teaspoon Fresh Ground Black Pepper
Additional 1/2 cup Olive Oil
PREPARATION:
Preheat oven to 170 F.
If using grape tomatoes cut in half and put skin side down in 9" X 12" glass or ceramic baking dish.  If using small tomatoes cut into ½ inch wedges and place skin side down.  Sprinkle Garlic and spices over the tops of the tomatoes. Drizzle olive oil over the top of the tomatoes and spices.
Place in oven and bake for approximately 10-12 hours.
I always stir one hour before end to dry out the skin sides a little. When baked to your liking put in a plastic container and add about ½ cup of olive oil to cover. Store in refrigerator.