Pan Roasted Salsa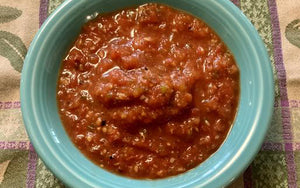 We love salsa at our house.  We like it on tacos, eggs, steaks, chicken and well, anything you can put it on!  A salsa to live up to all these things isn't just any salsa; it's a homemade pan roasted salsa. It's too easy to make, just get it going while you are doing dishes or making a meal. This is going to be better after it sits for a few hours so make it ahead of time.  I make it in the morning and the house smells amazing all day long.
Don't be afraid of the peppers. Experiment with different kinds. Behind the heat, pepper flavors are all different. We love the flavor of Serrano peppers more than jalapeño peppers, but they can be really hot. I plant peppers ever year in the garden. The first few I pick are not very hot. The longer they stay on the vine, and the later in the year the hotter they are.
As peppers are unpredictable cook extra peppers.  Sometimes it only takes one to get the flavor and heat I am looking for.  Since we like Serranos I start with them.  Then I add a jalapeno.   If your gang likes it hot, make more and add them up to the level y'all can stand.  Don't worry about the garlic, it will become nice and nutty and loose its spiciness during cooking.
Three large ripe tomatoes
Three cloves of garlic
One medium white onion
Two jalapeño peppers
Two Serrano peppers
1/2 cup water
Two tablespoons olive oil
1/2 teaspoon whole cumin
1/2 teaspoon dried Mexican oregano
Sea salt
Peel onion and slice into 1/2-inch thick slices.  (You can use a yellow onion, but it will make the salsa sweeter.)  Wash and dry all tomatoes and peppers.  Put onion slices, tomatoes, peppers and garlic into cast iron skillet (or other heavy bottomed skillet) and put over medium low heat.  
As you can see from the pictures, I only used 2 tomatoes but one was huge. Turn vegetables so they brown on all sides - this can take twenty minutes.  
You can also do under a broiler, but the garlic takes time to soften and I like the slow pace of the stove top.
Remove seeds from the peppers (this removes some of the heat).  I use plastic gloves to do this, so I don't get residual pepper juice under my nails and then later in my eyes.  Cut tomatoes into quarters (removing hard stem section).  Peel garlic.  Put garlic and one of the peppers into food processor and pulse till finely chopped.  Then add onions and pulse.  Then add tomatoes and pulse.  Taste and see if heat is where you want it to be – you can add the extra peppers as needed to your liking.
Put the water into pan you cooked vegetables in and swish around, all the cooked juices will add great flavor!  Add this water and the oil to processor.
In another small skillet or pan, put cumin seed and oregano.  Toast over medium heat until you can smell it and cumin starts to brown.  Put browned spices in mortar and pestle and grind to powder. Add to processor. Add pinch of salt and pulse to blend. Taste for heat and salt. If you like more heat, finely chop another pepper and add to mixture. Put in a covered container and put in fridge for at least an hour.
Note, this can be done without a processor, just finely chop all items.  And, if you don't have a way to grind the spices, you can used powdered cumin.
Let us know what you think and how you made this your own recipe. You'll never buy jarred salsa again. The pan roasting makes even winter tomatoes taste good.