Southern Living's Buttermilk Biscuits with tweaks by Ellie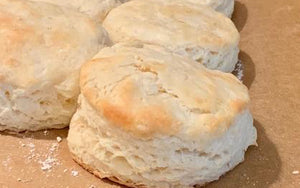 Southern Living's Buttermilk Biscuits
While I mastered sausage gravy fairly easily, biscuits were another story.  I have books of biscuit recipes and no matter whose I tried they were usually like hockey pucks.  Not anymore.  I found an old Southern Living Magazine and it made mention that they found the holy grail of biscuits.  I am a believer.  So the following is from what I could get from them with a few tweaks on baking. 
INGREDIENTS
1 Frozen Stick of Butter( American not European – they have different water content)
300 Grams (about 2 ½ cups) White Lily Flour
1 Cup COLD Buttermilk
 PREPARATION:
Preheat oven to 475.
Measure 300 grams of White Lily Flour into a bowl. Grate the frozen butter over the flour.  Gently mix it to combine.  Put bowl in freezer for 10 minutes.
Take bowl out of freezer and make a well in center of flour. Add butter mile and string with wooden spoon about 15 times.  You will have a ragged,slightly sticky dough.
Sprinkle flour onto the counter and turn dough out of bowl onto counter. Sprinkle a little flour on top of it. Push it gently together and roll into a rectangle. 
Fold top side to the center and the bottom side to the center.  Turn and gently roll out to rectangle again.  Do this 4 more times.  This is what gives it the flaky layers. 
Take 3 inch biscuit cutter and dip in flour before cutting straight down into dough. Do NOT twist.  Twisting will seal the sides and make you lose the layers. Combine any scraps into a free-form biscuit. 

Place biscuits touching each other on parchment lined baking sheet. You can spread them out but when they touch, they raise higher. 

Bake for 8 to 15 minutes. Why??  Here is why the time is varied.  I have made these so many times that I find I just need to start watching at 8 minutes.  The cook is actually longer if you use parchment.  Shorter if you don't.  If I got distracted when rolling and cutting, then the dough was warmer so they cooked quicker.  Just promise yourself that you will look at 8 minutes.  They will rise, but you need the bottoms to brown a bit.  You can use the scrap biscuit as your tester – when you break it open it should be full of steam and fluffy.  You CAN do this.
**2 notes – buy a scale for any baking.  Flour is funny stuff and if it is humid the flour weighs more.  Don't use the fancy ridged baking sheets for biscuits – they need the flat old fashioned ones to do right.