Maton Guitars Joe Robinson Signature 808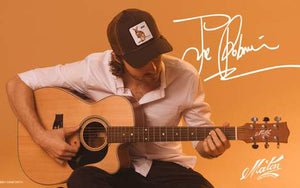 Maton is proud to announce the release of the Joe Robinson Signature Model Guitar.
This highly anticipated new 808 is now available for pre-order through
Artisan Guitars
!
One the most inspiring players and singer/songwriters in the industry today, 29-year-old Australian native Joe Robinson has always been demanding of his instruments, and has been incredibly particular about the specifications. The J.R. Signature Model features Tasmanian Myrtle back and sides with a spruce top, jumbo stainless steel frets, an ultra-playable neck, and the lightest satin finish possible. To read more about this Maton Guitars Joe Robinson Signature Model click HERE
"I've been playing Maton guitars since I was 14 years old," Robinson said. "They really are a huge part of my sound, and it means a lot that the relationship has moved to this level. I am so proud of this signature guitar. It is everything I hoped it would be and more. The sound, feel and build quality are impeccable. I am so happy this guitar is now out in the world for others to enjoy."
 The Tasmanian Myrtle back & sides give this Maton a powerful mid-range response with a speedy note attack & warm low end balance. The Mahogany neck makes for a sturdy, ultra comfortable profile that helps hold and sustain notes longer with clarity & fullness. The Jumbo stainless steel fretwire is something new for Maton players, "the frets are wider than a Martin fret & taller than a Gibson fret" - JR. Joe credits Joe Glaser in Nashville TN. as the reason he changed out his original frets for the jumbos.
Watch Joe talk about his new signature 808 model in the video above!